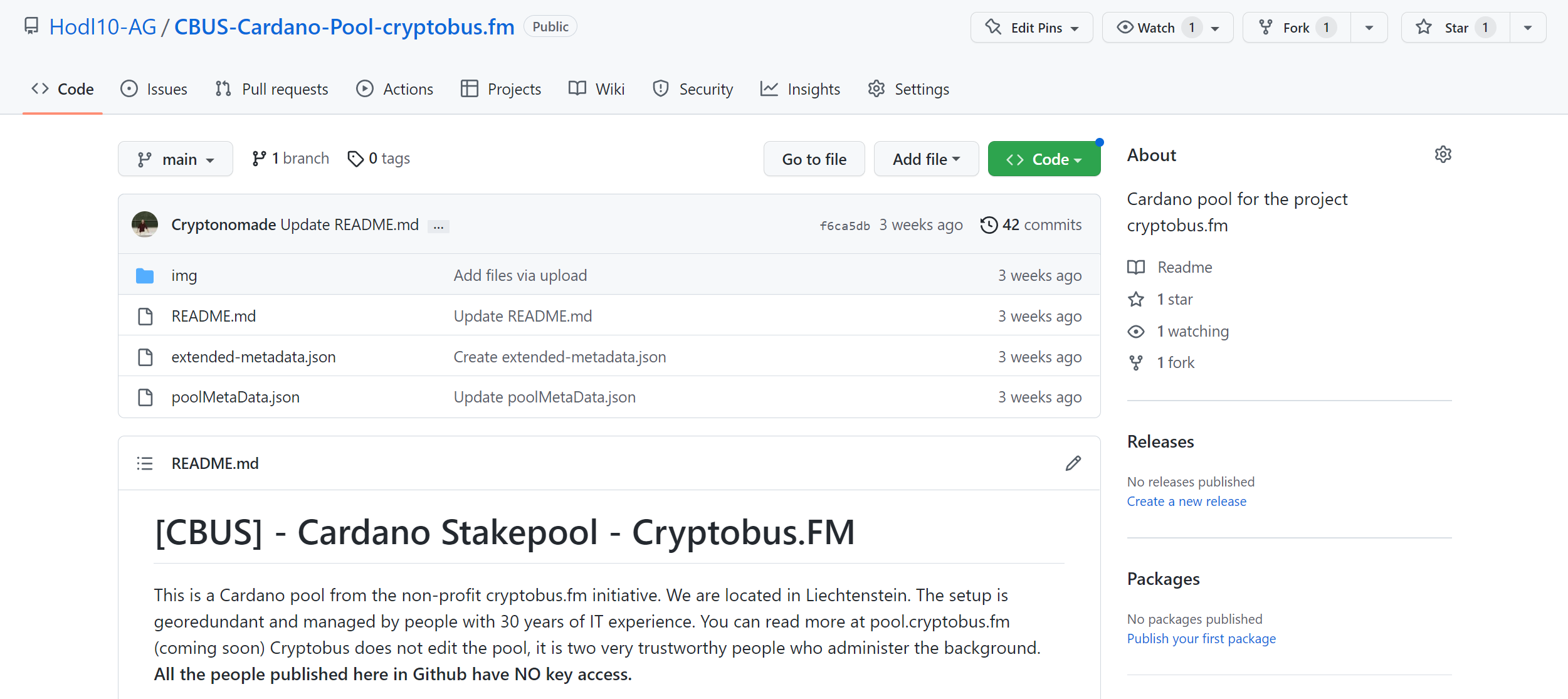 [CBUS] – Cardano Stakepool – Cryptobus.FM
GITHUB LINK: https://github.com/Hodl10-AG/CBUS-Cardano-Pool-cryptobus.fm
This is a Cardano pool from the non-profit cryptobus.fm initiative. We are located in Liechtenstein. The setup is georedundant and managed by people with 30 years of IT experience. You can read more at pool.cryptobus.fm (coming soon) Cryptobus does not edit the pool, it is two very trustworthy people who administer the background. All the people published here in Github have NO key access.
Ticker: CBUS or [CBUS]
Our CBUS Cardano Pool Details:
| Ticker | [CBUS] |
| --- | --- |
| Name | [CBUS] – Cardano Stakepool – Cryptobus.FM |
| Pool ID | pool1khwvcz8jz9auk53k698ywgr6ams27hrz20vnwqx2d4xggscp93f |
| Pledge | 25.000,00 ADA |
| Location | Liechtenstein |
| Website | pool.cryptobus.fm (cooming soon) |
| Margin fee | 1.8% |
| Fixed fee | 340₳ |
A Cardano staking pool is a group of individuals or entities that pool their resources together to increase their chances of being selected to create a new block on the Cardano blockchain. In the Cardano proof-of-stake (PoS) consensus mechanism, the creation of new blocks is determined by a randomized selection process based on the amount of stake (i.e., the number of Cardano tokens) that each participant holds. By joining a staking pool, participants can pool their resources and increase their chances of being selected to create a new block and earn a reward.
We are the only known and public Cardano Staking pool in Liechtenstein
Liechtenstein is a small, beautiful country located in the heart of Europe.
The people of Liechtenstein are known for their warm hospitality and friendly nature.
Liechtenstein has a stable and prosperous economy, with a low unemployment rate and a high standard of living.
Links
General:
Social Media: